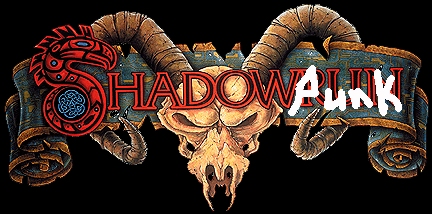 "What is Shadowpunk?" you may ask. Well, I shall do my best to answer that. Shadowpunk is a term my friends and I came up to describe the Role Playing Game we play. We started out playing Cyberpunk 2.0.2.0, but we liked some of the elements of Shadowrun, such as magic and metahumans, so we integrated those aspects into the normal Cyberpunk world. Plus Shadowpunk looks and sounds cooler than Cyberun.
Now, if you don't know what either of these two RPGs is like, then I will try to explain them. On this site I will give you the run down on Cyberpunk. You can also read about Shadowrun. At the bottom of this page are some profiles of the chracters played in our group.
Helpful Information

Introduction
Roles
Statistics
Skills
Starting Money
Equipment
Weapons
Armor
Cybernetics
Netgear
More Weapons
Programs--Character and Lifepath generators

Character Profiles
Lord Dante--16 year old fixer, band manager


Hisaureson--ranger elf


Romulus--mage, bassist


Alias--lead guitar


D.O.A.--


Sean Whain--lead vocals, song writer (NPC)
Cid--Greasy litle dwarf fixer, now residing somewhere in the Bahamas.


Emiel Laertes--Half-elf solo.


Rev Briarfoot--Dwarf zoomer ganger (nomad)


Rumor--Deceased?, former Porcelain Monkey


Kinjiro--whereabouts unknown


Tanaka--whereabouts unknown

HOME| TANK GIRL| MY FRIENDS| THE LIBRARY| THE CROW| CELEBRITIES| RPG| SIN CITY| GALLERY
---
This webpage is a Vex Godglove creation. Questions? Comments? Thoughts? Ideas? Contact him at Chaostorm Labs, Inc. chaostorm@hotmail.com